The stakes are high and the fun even higher in a Casino Royale theme party!
Host the ultimate games night with your friends. A Casino Royale theme party brings the thrills and glamour of James Bond's world to your event. Spin the Money Wheel, place a straight up on Roulette, or try a hand of Blackjack, and we can guarantee you'll win a lifetime of memories. At Casino Royale, it's not about how many chips you win, it's about the thrill of the games and having fun with friends.
A Casino Royale casino theme party lets you recreate James Bond's famous casino scenes. This is a party with class! Your guests are all dressed to the nines, chandeliers light up the room, and a bartender mixes drinks behind an old oak bar. Waiters make rounds of the room to offer champagne and canapes. Maybe you've even invited your frenemies for some 007-style scandal and intrigue!
---
Invitations
There are so many options for designing invitations for a Casino Royale party. You could use some of the iconic James Bond images – such as the gun barrel, or the 1960's book cover design for Casino Royale. Or just go with a black and white invitation, decorated with a touch of red. The font should be elegant and simple. Here is one of our favourites: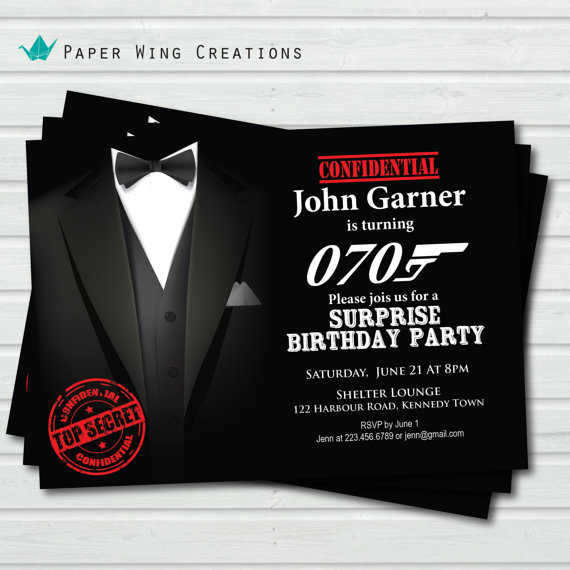 ---
What to Wear – Casino Royale styling
This is the night your friends don't just show up – they show off! Your Casino Royale party is a great way to bring people together for a night of casino games and looking good. Everyone has a nice dress or suit in their closet that they'd want to be able to wear more often. This could be the night.
For the men: Tuxedos.
No Casino Royale theme can be complete without the classic Bond tuxedo. Will you choose the vintage tux with wide lapels and ruffled shirt like Roger Moore? Or will you choose the timeless black classic with pleated shirt and wing-tip collar? Don't feel that you have to stick to the traditional black though…as Sean Connery showed us, a white tuxedo jacket can be just as debonaire!
For the women: the more glamorous the better! Think long cocktail gowns, sequins and lots of sparkle.
Maybe glitz and glamour isn't your thing and you'd prefer your Casino Royale party to be a James Bond theme fancy dress. Here are some costume ideas for you and your guests.
---
Shaken, Not Stirred – Catering Ideas
Casino Royale makes for a perfect cocktail party. Skip the sausage rolls and party pies, and go for something a bit more elegant. Goodfood has some easy and eye catching recipes for delicious cocktail nibbles.
And don't forget the drinks! A casino party inspired by James Bond is not complete without his favourite martini – shaken not stirred. Martini, made as dirty as you want, is a great addition to the champagne making the rounds. So stock upon on gin, vermouth and olives. For a little zest, have some lemons on hand too…and don't forget the ice!
Drinklab has more martini ideas than you could imagine. Choose the drinks you'd like to serve on the night and design a drinks menu for the bar where each drink has a different James Bond themed name. Get creative! 
---
High Stakes, High Fun
Finally, make sure you hire the best casino tables and Croupiers for your Casino Royale party. OMG Gaming & Entertainment  services Sydney, Wollongong, Newcastle, Central Coast, Brisbane and the Gold Coast. Best of all, their prices are extremely competitive, so your Casino Royale party won't cost you the shirt off your back.
---
Who's going to be lucky tonight? It could be you; it could be your arch enemy. What's for sure is that, with all the great food and drinks, good company and exciting casino games, everyone wins!
Find more Casino theme party ideas.