Recreate the Mystique
Recreate the mystique of the 1930's Chinese gambling den at your Casino party. Mystery and danger fill the night as you enter a Chinese mobster's favourite hangout. A smoky haze fills the room. There's a beautiful woman in a cheongsam on a small stage in the corner, singing over the soft click of Mahjong tiles. Westerners and Chinese alike watch you warily as you walk through the door. You wonder to yourself: am I lucky enough to survive a game of Pai Gow? Or, am I bound to face the wrath of a mob boss?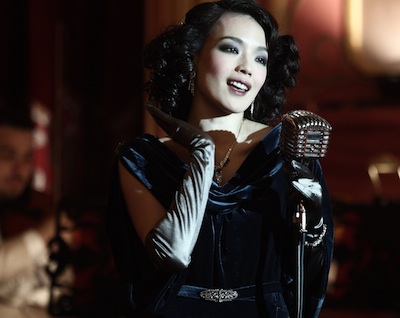 All of this is make-believe, of course. This is your Shanghai Nights Casino party and it's all about fun – infused with just enough suspense to make casino games and wagers more exciting.
The Shanghai Nights Casino theme party lets you relive a time when the Chinese mob ran illegal gambling dens and reigned over the city. Feel the danger of mobster-run casino games with professional croupiers dressed for the part.
Baccarat, Sic Bo, Roulette and Pai Gow are popular games for a Shanghai Nights Casino theme.  Bet at your own risk, just make sure to let the house win some of your games…. or else.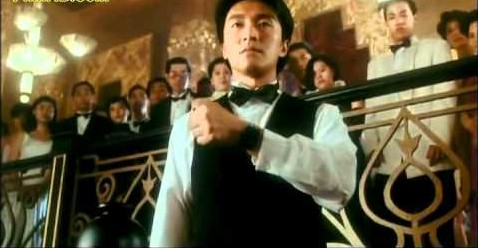 ---
Invitations
Look for, or design, something with an oriental feel to it. If you are really creative, perhaps you could even try making an origami invitation. The scroll invitations pictured are created by luvinspiration.com.
---
Seeing Red – Decoration Ideas
Decorate your Shanghai Casino theme party with red in mind. Red paper lanterns, red curtains, red napkins for food. Red is a lucky color for the Chinese. It means happiness and good fortune.
Dragons are also great for decorating any Oriental-styled event. Symbolising wisdom for the Chinese, having dragons featured at your party would be a good way to remind your guests to bet wisely!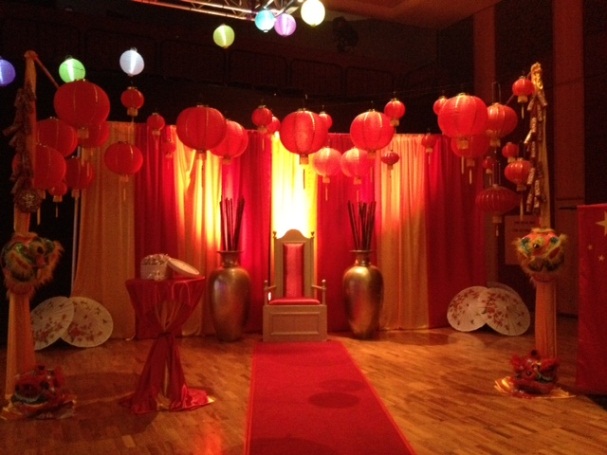 ---
What to Wear
Men: Changshan, or Tuxedo with Mandarin collar. White tuxedos also work well.
Women: Cheongsam (Qipao)
Nicole Kidman's costumes in the movie Australia included a few beautiful cheongsams. Not only is this style of dress very elegant and sexy, it is also extremely versatile! Choose from short, mid-length or floor length, with a split at the side or without, with a straight skirt or A-line skirt, with long sleeves, short sleeves or no sleeves, with cleavage or without…in just about any colour or print!
Hair and hair accessories should be 1930's style.
---
Dim Sum and Rice Wine
Catering for your Shanghai Nights Casino party is easy! A good option is to choose small bite-sized menu items that can be served on spoons as pictured below. Asian-style foods would be most appropriate, but a mixture of other foods can be served to cater for guests' different tastes if preferred.
Another option is to serve dumplings. Dumplings are the perfect cocktail party food – bite-size meals, made from meat and/or vegetables, with a rice-flour wrapper. Serve them with chopsticks and a small plate so that guests can keep playing as they eat, or present them on Chinese spoons. We recommend this complete dumpling party menu as a good guide.
---
High Stakes, High Fun
Finally, make sure you hire the best casino tables and Croupiers for your Shanghai Nights Casino party. OMG Gaming & Entertainment  services Sydney, Wollongong, Newcastle, Central Coast, Brisbane and the Gold Coast.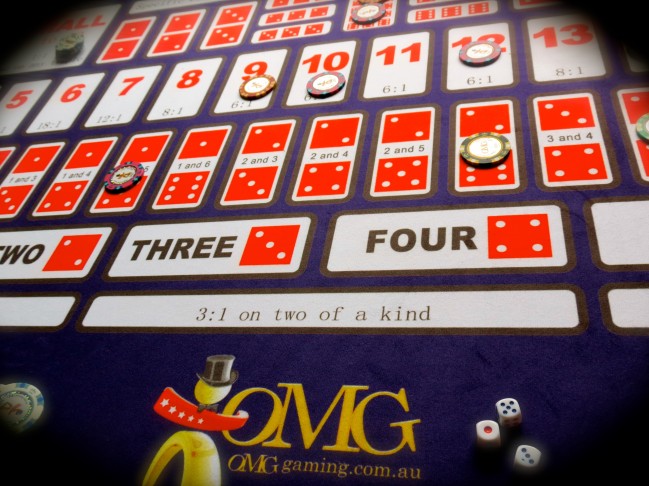 OMG provides Casino tables and Croupiers for Roulette, Baccarat, Blackjack, Poker, Craps, Sic Bo and Money Wheel. Pai Gow and Mahjong can be arranged by request. Best of all, OMG's prices are extremely competitive, so your Shanghai Nights Casino party won't require you to visit any Chinese money lenders!
---
Your Casino party will definitely have that Shanghai pulse – high-roller fun, and excitement with the right amount of Oriental flair. This will definitely be a night that you and your friends won't forget!
Find more Casino theme party ideas.